Welcome to our Blog
What is a Micro-Task?
What is Digital Word of Mouth Advertising?
Digital Word-of-Mouth Advertising is one of the most effective advertising methods available for businesses looking to get their adverts and content noticed by potential customers.
---
"In fact, research shows that potential customers are 5 TIMES more likely to notice a business when it's being promoted by someone Independent!"
---
The following stats below show tell you a lot about why word-of-mouth marketing has become one of the most effective advertising methods available:
---
75% of people don't believe advertisements when coming directly from a business, but 92% of people DO believe businesses being promoted by someone OTHER than a business.
Potential customers are 5x more likely to buy when referred by someone independent, like a friend or family member.
Around 74% of consumers identify word-of-mouth advertising as a key influencer when making purchasing decisions
Source: ClickDimensions.
---
Think about it, how many adverts from companies do you see on a daily basis?
---
The answer is hundreds. On TV, Radio, Newspapers, Billboards and Posters outside - not to mention every time you go online!
---
Subconsciously consumers have "shut-off" from the vast majority of adverts - ignoring over 98% of adverts entirely. Meaning the vast majority of money businesses spend on advertising is simply wasted!
---
It's also proven that over 94% of customers who do want a product or service generally tend to search for it themselves - without letting advertising play a part in their buying decision. Again, over 94% of customers then make a decision to use a company based on what others think of that companies products or services.
---
Now, imagine if a business could stop wasting money on advertising that over 98% of customers ignore anyway, and instead used an advertising method that over 92% of people DO take notice of!
---
The balance of advertising power would swing back towards the business! Plus, they'd stop wasting money on advertising!
---
This is exactly what my company, The Word of Mouth Marketing Network, offer!
---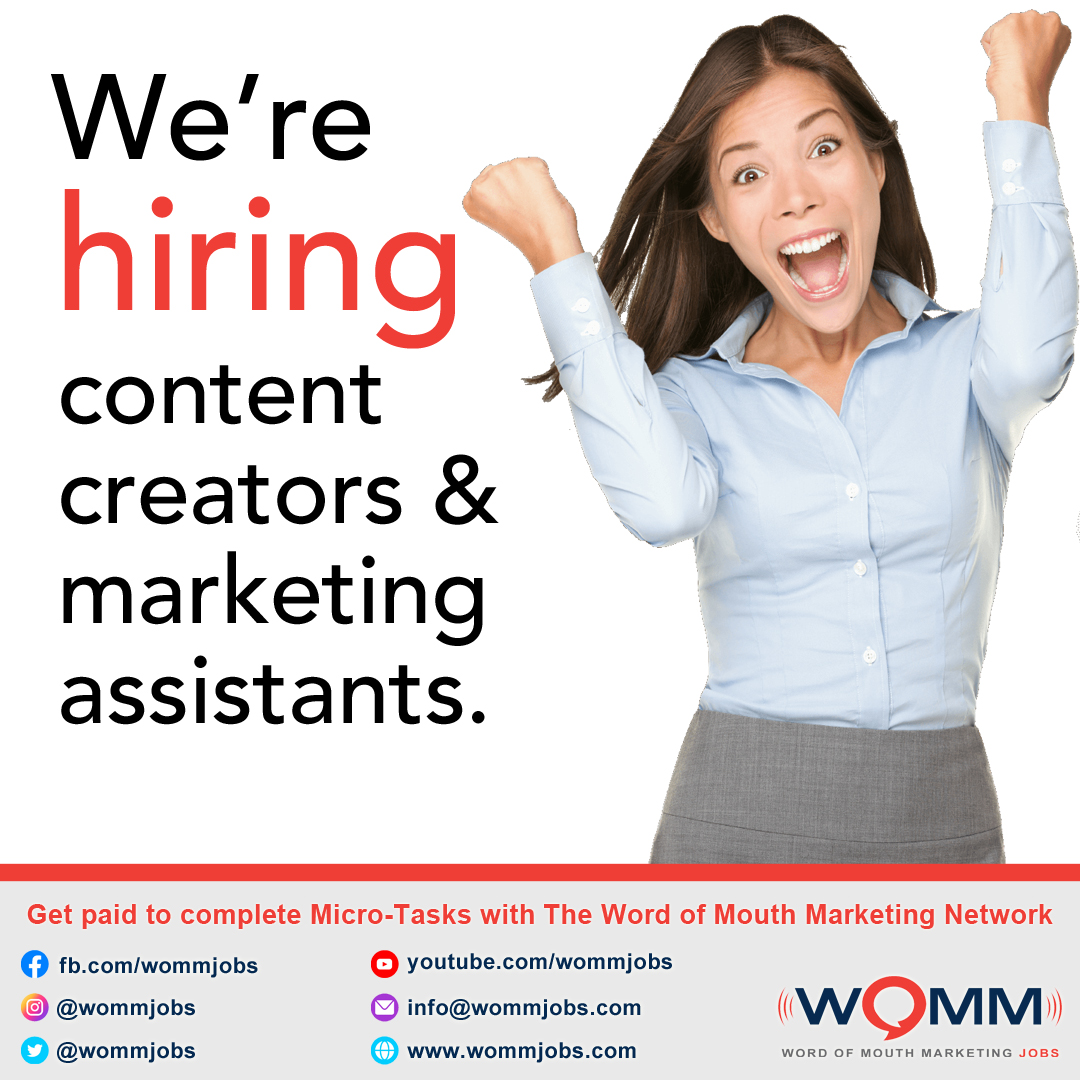 ---
WE'RE HIRING
---
Due to our expansion we are currently hiring people to support our existing team.
---
Working for our company involves completing different Micro-Tasks, including:
---
Posting Adverts.
Promoting Websites.
Creating & Promoting Marketing Images + Videos.
Creating & Promoting Blog Posts
Assisting Potential Customers.
---
All Micro-Tasks have one goal in mind - to help our clients businesses grow.
---
You will be able to complete Micro-Tasks using our bespoke online system.
---
On-Target basic pay is $15 per hour, but can be higher dependant on experience and the amount of Micro-Tasks completed.
---
No experience is required as full training and support are provided.
---
If you want to work with a highly recommended, innovative company and this sounds like a job that interests you then please Apply Now
---
About the author...