GET PAID TO COMPLETE SIMPLE MICRO-TASKS ONLINE
We're the only platform in the world where you can earn multiple payments every time you complete 1 Micro-Task!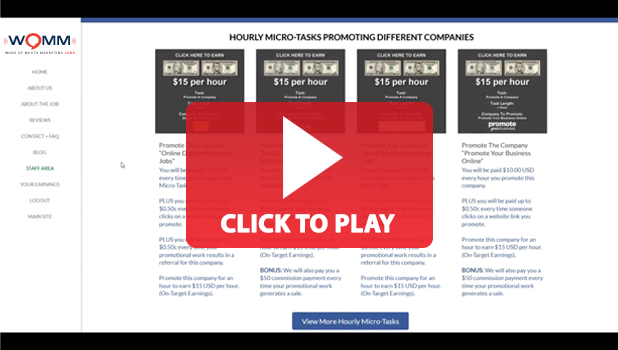 Welcome to The Word of Mouth Marketing Network, one of the world's fastest growing online advertising agencies.

If you're looking to make money promoting different companies online then apply to work with us today.

We work with lots of companies from all over the world who use us to get their website, products and services promoted to new customers. Every company we work with needs to be promoted world-wide which is why we accept applications from people all over the world.

All work is broken down in to different Micro-Tasks. A Micro-Task can be as simple as promoting a website, to completing more complex work such as creating new images, videos or blog posts.

Simply choose what work you want to complete, then complete it at a time that suits you – all from the comfort of your own home.

You can complete Micro-Tasks independently using our bespoke platform. No experience is necessary as full training and support is provided.

You'll be able to earn up to $15 per hour working with us. Unlike most work-from-home companies, you'll always be paid a basic pay-rate regardless of what work you do. Plus, most Micro-Tasks will also provide a way for you to earn a passive income!

To find out more please browse this website or apply using the button below.
To Begin Your Application Please Create An Account:
We will NEVER sell your personal information or send you SPAM!
---
---
Need Help? Watch This Video:
This video will answer most questions about creating an account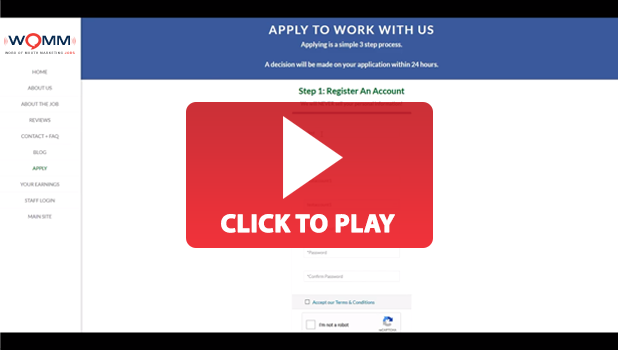 ---
Already Applied?
Need Help? Watch This Video:
This video will answer most questions about logging in to your account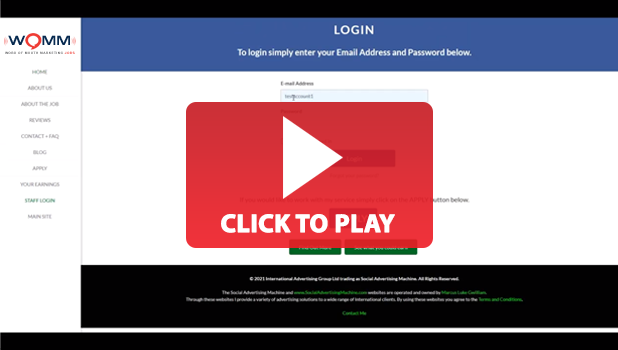 ---
---
Accept Work From Different Companies
There are a wide-range of companies you can accept work from. Every company has different requirements, meaning you can choose what work interests you the most.
Every company you can work with has different requirements and different pay levels.
Some companies pay per-hour and some pay per-task. Simply accept work from the companies who interest you the most.
---

---
Below are Some Companies You Could Be Working With:
---
Promote this company for an hour to earn $15 USD per hour. (On-Target Earnings).

---
Follow the Instructions Provided
Every company you accept work from with will provide detailed instructions to ensure you complete the work correctly.
Simply follow the instructions for every company you choose to work with.
Example work you'll be asked to undertake includes:
Promoting and Marketing Existing Advertising Material.

Creating & Promoting Marketing Videos.

Creating & Promoting Social Media Content.

Creating & Promoting Blog Posts.

Posting Adverts for Different Products / Services.

Promoting Website Links.

Assisting Potential Customers Online.
---

---
Meet Your Targets and Get Paid.
Each company you work with will have clear Task-Requirements for you to meet.
Example Task-Requirements Include:
Creating 3 x 500 word Blog Posts in an hour.

Creating 2 x 5 minute Marketing Videos in an hour.

Posting 25 adverts on Facebook every 15 minutes.

Getting 50 people to click on a companies website link.

Promoting a Discount Code alongside an advert.

Creating 5 Image Based adverts in an hour.
Every Task-Requirement is easily achievable within the time allocated and the pay is in-line with market averages.
Simply complete the Task Requirements for every company you work with to get paid.
If you complete more than the Task Requirements you will earn more.
---
Plus, you will be paid a $50 BONUS COMMISSION PAYMENT if your work results in a sale.
Some companies pay a commission payment if your work results in a sale for them.
Simply promote your UNIQUE DISCOUNT CODE when working for different companies. Your UNIQUE DISCOUNT CODE will give potential customers a huge discount on the products and services you promote - making it even easier for you to generate sales.
Therefore your potential earnings could be $15 per hour PLUS a $50 commission bonus payment every time your work results in a sale.
---
On-Target Earnings Pay Table
Below you can see what you could earn working with our service every hour, day, week, month or year by simply completing Micro-Tasks.
---
| | | | | |
| --- | --- | --- | --- | --- |
| On-Target Earnings Per Hour | Daily Income (6 hours per day) | Weekly Income (5 days a week) | Monthly Income | Yearly Income |
| $15.00 | $90.00 | $450.00 | $1,950.00 | $23,400.00 |
---
PLUS - EVERY TIME YOUR WORK GENERATES A SALE YOU WILL GET PAID A $50 BONUS COMMISSION PAYMENT!