What is Digital Word of Mouth Advertising?

What is The Word of Mouth Marketing Network?
What is a Micro-Task?
Micro-Tasks are small, simple tasks that make up the entire advertising campaign for our customers.
---
For example, if a business wanted 50 new customers we would ask different Digital Marketers to complete 1000 Micro-Tasks - which would guarantee 50 new customers.
---
The "Micro-Task" being completed could be something such as Sharing a Website Link and accompanying Advert Text on Social Media.
---
Example Micro-Tasks could include:
---
Sharing Facebook Posts
Promoting Website Links
Promoting Instagram Pages / Profiles
Retweeting Twitter Posts
Promoting YouTube Videos
---
Every time a Micro-Task is completed a businesses information or advert is promoted.
---
So if a business wanted to get 50 customers we would recommend that 1000 Micro-Tasks are completed.
---
This is because we know that every time 1 Micro-Task is completed by a Digital Marketer, around 50 potential customers will see the business being promoted.
---
So when 1000 Micro-Tasks are completed around 50,000 potential customers will see the business being promoted.
---
Finally, if just 0.1% (which is an incredibly conservative conversion rate!) of those 50,000 potential customers become a customer...
---
The business being promoted will get 50 new customers!
---
Digital Marketers completing Micro-Tasks is one of the most effective ways for a business to get new customers!
---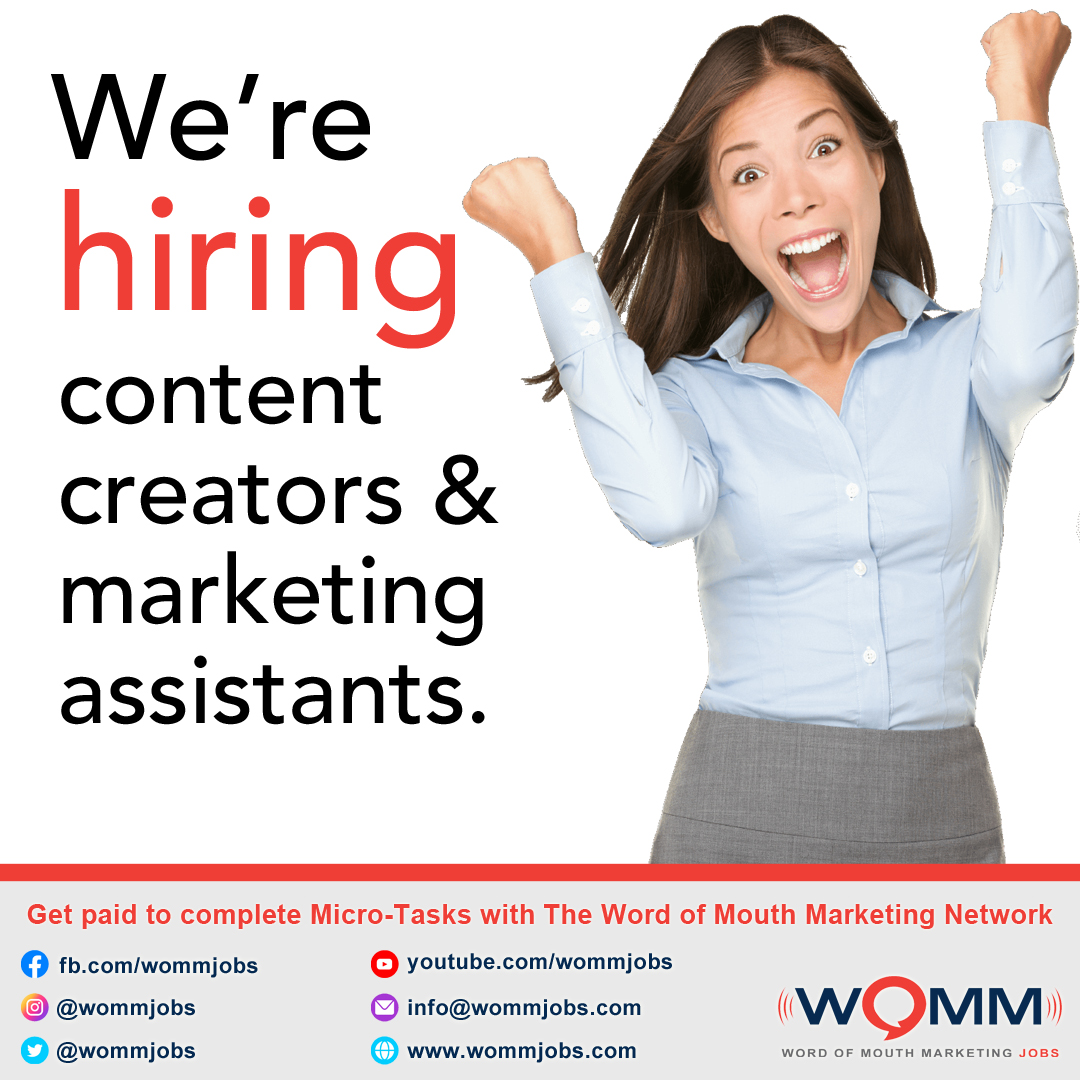 ---
WE'RE HIRING
---
Due to our expansion we are currently hiring people to support our existing team.
---
Working for our company involves completing different Micro-Tasks, including:
---
Posting Adverts.
Promoting Websites.
Creating & Promoting Marketing Images + Videos.
Creating & Promoting Blog Posts
Assisting Potential Customers.
---
All Micro-Tasks have one goal in mind - to help our clients businesses grow.
---
You will be able to complete Micro-Tasks using our bespoke online system.
---
On-Target basic pay is $15 per hour, but can be higher dependant on experience and the amount of Micro-Tasks completed.
---
No experience is required as full training and support are provided.
---
If you want to work with a highly recommended, innovative company and this sounds like a job that interests you then please Apply Now
---
About the author...
Latest posts by WOMM Jobs
(see all)