Get Paid To Be On Social Media
Who Works For Us?
Four Different Ways To Get Paid Promoting Businesses Online
Below are the 4 different ways you can get paid by promoting businesses online:
---
1) Basic Hourly Pay-Rate - we pay a minimum of $3 and up to $10 per hour.

---

2) PLUS up to $0.50c for every person who clicks on a website link you promote.

---

3) PLUS up to $0.50c for every person you refer.

---

4) PLUS a huge $50 commission payment for every sale that comes as a direct result of your promotional work.
---
Through the first 3 methods most people working with us earn at least $15 per hour.
---
Then, typically, most people also earn extra money through $50 commission payments for sales that come as a direct result of their promotional work.
---
However, you do not need to make any sales as we pay per-hour and NOT per-sale!
---
---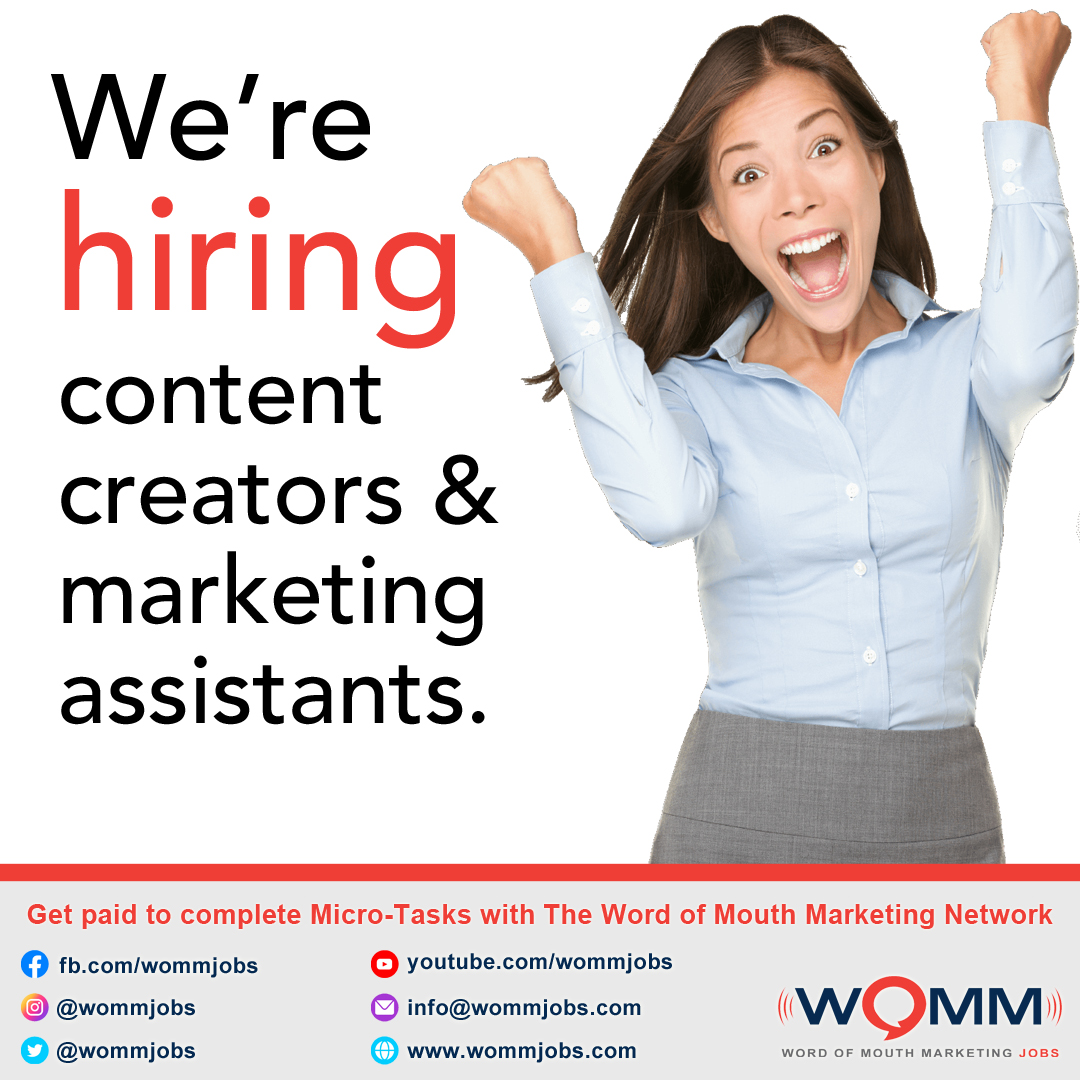 ---
WE'RE HIRING
---
Due to our expansion we are currently hiring people to support our existing team.
---
Working for our company involves completing different Micro-Tasks, including:
---
Posting Adverts.
Promoting Websites.
Creating & Promoting Marketing Images + Videos.
Creating & Promoting Blog Posts
Assisting Potential Customers.
---
All Micro-Tasks have one goal in mind - to help our clients businesses grow.
---
You will be able to complete Micro-Tasks using our bespoke online system.
---
On-Target basic pay is $15 per hour, but can be higher dependant on experience and the amount of Micro-Tasks completed.
---
No experience is required as full training and support are provided.
---
If you want to work with a highly recommended, innovative company and this sounds like a job that interests you then please Apply Now
---
About the author...
Latest posts by WOMM Jobs
(see all)